Hello Everyone!
As promised, here is the sale page for the recovery points I mentioned in my first post
~HERE~
... These are not designed for Trailhawk models, as THs already have factory-installed hooks on the front. They were designed and tested with a 2015 Latitude, but they should fit the other models and years as well.
This recovery system uses steel to replace the aluminum "frame extensions" that are mounted to the frame below the bumper. (See Photo 1 Below) The product is designed to fit using existing bolt points in the frame, so NO drilling or other modifications to the frame of the vehicle are necessary. The purchaser will have to cut the honeycomb grille for the hooks to fit, and it will be up to the purchaser if they would like to contour-cut the grille to fit, or simply cut out the entire section as I did (See Photo 2).
The kit will come with two steel brackets, two hooks, and hardware to attach the hooks to the brackets. The brackets attach to the frame using the existing bolts that are currently holding the "frame extensions". The brackets will come painted black with black hooks. Custom colors or Chrome hooks may be available for a "slight nominal fee"
But Wait, Theres More!!! If you call (or PM me) now, instructions for bumper removal and kit attachment can be sent via email in PDF form if needed, AT NO COST!
Pricing is as follows:
Black Recovery Hook Kit, Continental US: $215 + Shipping
Black Recovery Hook Kit, outside cont. US: $215 + shipping
Custom hook colors or Chrome hooks, add $10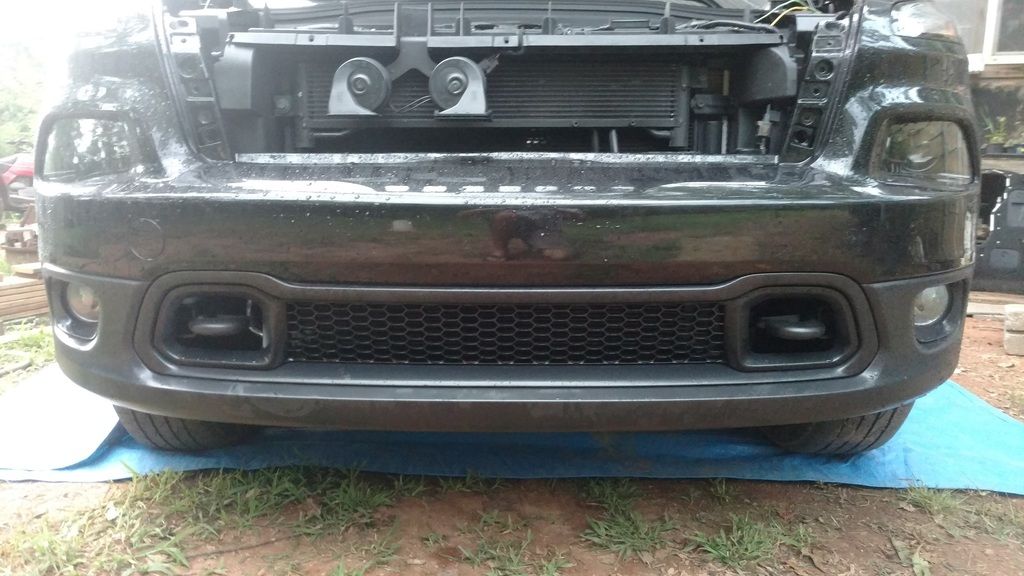 ~More Pics of the Brackets and Mounting~
https://youtu.be/fUkbsHvKD34
https://youtu.be/h1IG0YPWBPY
https://youtu.be/qjN3Nu4Rn_E
Photo 1 ("Frame Extensions")
Photo 2 (Grille cutout)
**Disclaimer**
I have built and installed these on my personal vehicle, and tested them for occasional use in low-force recovery/pulling situations with good results. However, high-stress or sudden jerking on the kit should be avoided to prevent damage to the kit or vehicle! Use at your own risk, and use caution when using any recovery system.
MENTIONS
@Alxndr
•
@BillsCherokee
•
@Bruno
•
@Dunx
•
@Fj4080
•
@jfrzy
•
@Justin327
•
@Kevin C
•
@LarzyHoneytoast
•
@Lumberjack
•
@mydiesel
•
@tbuck14
•
@rski
•
@Mark_
•
@airishfan